Chef Angel
Chef Angel has over 10 years of cooking experience. He loves to pamper his guests by making sure they have the best experience possible. He's always looking to improve his techniques and he's very enthusiastic about learning new ones as well. He's very passionate about French cuisine and we are sure Angel will always put a smile on your face with his culinary creations.
Signature dishes:
Green ham hock a la Veracruz
Beef Bourguignon
Shrimp & crab "Chilpachole" soup
Reviews :
"My family and I had a wonderful time all the staff was very attentive as they were constantly checking in with us and Chef Ángel cooked delicious and went over and beyond in each meal he prepared for us"
"Everything about this villa is amazing. The food that Angel prepared for breakfast and dinner was unbelievable. We told him we did not want to pick from a menu and asked that he surprise us with each meal. We will be talking about the meals for years to come.
"What an amazing trip! Angel's food prep was amazing, like a high end restaurant for breakfast and dinner everyday! Villa Celeste was always spotless and made us feel at home. Can't believe how much value we received at the price point!"
Chef Carlo
Chef Carlo is one of Vallarta Shore's new team members and has proven to be a very valuable team member already. With over a decade of cooking experience and traveling around the world learning about each culture and their cuisine, he has vast experience in International cuisine and Italian being his favorite, we are positive that Chef Carlo won't ever dissapoint you. You can see some examples of his dishes in the slideshow below.
Signature Dishes:
Homemade Tiramisú
Osso buco with saffron risotto
Reviews :
"Vallarta Shores was exactly what was pictured. Great space. Chef Carlo was fantastic!"
"This was my 2nd time staying at Vallarta Shores, and it was an amazing experience again. Great location and view and the food by our private chef was amazing!"
"Wonderful spot! Great location! The staff is amazing and are so so helpful and responsive. Chef Carlo was fantastic. True vacation when you don't have to shop or cook or worry about anything."
"The entire experience was amazing. Our place was spotless, had fabulous location and amenities our chef was the icing on the cake. I didn't realize he'd prepare meals for us 2x daily. Every meal was restaurant quality and he was incredibly kind, thoughtful, and flexible!"
Chef Dulce
Chef Dulce was born in the state of Morelos, daughter of a Mexican mother and a German father her passion for cooking began at an early age helping her mother. Today with 25 years of experience as a professional chef she loves making Paella, of course without leaving behind a good Mole. Dulce loves to keep growing and learning to always have new ideas and make her cooking skills better to delight our guests.
Signature Dishes:
Scallops Rockefeller
Paella Valenciana
Reviews :
"Every meal Dulce made was so delicious and meals were a real highlight of the trip. They cooked us and made sure we had plenty of snacks prepped for when they weren't around. The last night was one of the guests birthdays and the threw the cutest little party, sang to him, and made the most delicious dulce de leche birthday cake.
"We had Dulce, our private chef the entire time for breakfast and dinner and the food was the best I've had in PV! Highly recommend for anyone who's looking for something different than an all inclusive but also want to experience al inclusive treatments and a lower cost!
The staff is amazing. Dulce, our chef cooked us delicious meals daily, all you pay for is groceries and gratuity of course. There's literally not one bad thing I can say about this place. Thank you to all the staff for making our trip one to remember.
Chef Edwin
Chef Edwin was born in the Mexican state of Yucatan where as a child he spent his afternoons following his grandmother around the kitchen, this is where is passion for cooking began. He has vast experience both here in Mexico as well as the United States, he loves to cook using fresh and local produce, Edwin's passion for cooking and going the extra mile will make sure you have the best culinary experience while in Puerto Vallarta!
Signature Dishes:
Pork chops with red wine sauce
Crab croquettes with mango sauce
Reviews :
"Myself and a group of 5 friends stayed at Vallarta Shores for two weeks. The onsite team of four is outstanding!!!! Edwin is a wonderful Chef and our meals were always top notch."
"Our group was a mix of old friends and new looking to escape for 4 nights. The enormous space and layout made it possible for both communal events and private space. The family style dinners with the ocean view prepared by Chef Edwin were simply phenomenal"
"Everything was a breeze from check-in to check-out and was made all the better by Chef Edwin and the staff. The food was outstanding and they made you feel right at home."
Chef Fanny
Chef Fanny has been with Vallarta Shores for a little over 2 years now. Her specialty is seafood dishes and she also has a passion for desserts, which guarantees you will always feel spoiled having her as your personal chef.
Signature Dishes:
Coconut shrimp
BBQ ribs
Reviews :
"Chef Fanny was amazing, kind and cooked delicious meals. Daniel the host, was quick to respond with any questions or concerns we had. Our experience with our friends was lovely and if you like waves, you will definitely hear them from this condo"
"The entire stay was amazing. Everything was wonderful and romantic. The chef was out of this world!!!!!! Fanny was the best!!!!!!! Vallarta Shores was amazing!"
"Beautiful place! We had a blast. We were a small group of five which was perfect. Our chef was great! Compliments to chef Fanny! We will definitely have to request her next time. Can't wait to be back, see you soon PV."
"This is a great location directly on the beach. The units are very spacious and the staff always friendly and accommodating. It's about 10-15 min walk from bars and restaurants in zona romantica. Lastly , the chef service is a great perk – we had chef Fanny and she was wonderful."
Chef Irvin
Chef Irvin is 29 years old, he's an actual former teacher in the Technological institute college of Bahia de Banderas. He offers vast knowledge in International dishes, his specialty being Molecular cuisine. So far Irvin has received nothing but great reviews from all his guests.
Signature Dishes:
Rib eye with chocolate, coffee and chili powder
Duck confit tacos
Reviews :
"Vallarta Shores location was exactly where we wanted to stay. The private chef made our stay excellent! Thank you for everything- we will be back!"
"Vallarta Shores was exactly what was pictured. Great space. The chef was fantastic!"
"This was my 2nd time staying at Vallarta Shores, and it was an amazing experience again. Great location and view and the food by our private chef was amazing!"
"Highly recommended. The views are wonderful. Our suite came with a wonderful chef who cooked breakfast for us every morning as well as lunch or dinner as we chose. Excellent chef. The location was perfect for our needs. Walking distance to everything we wanted to do. Exceeded my expectations."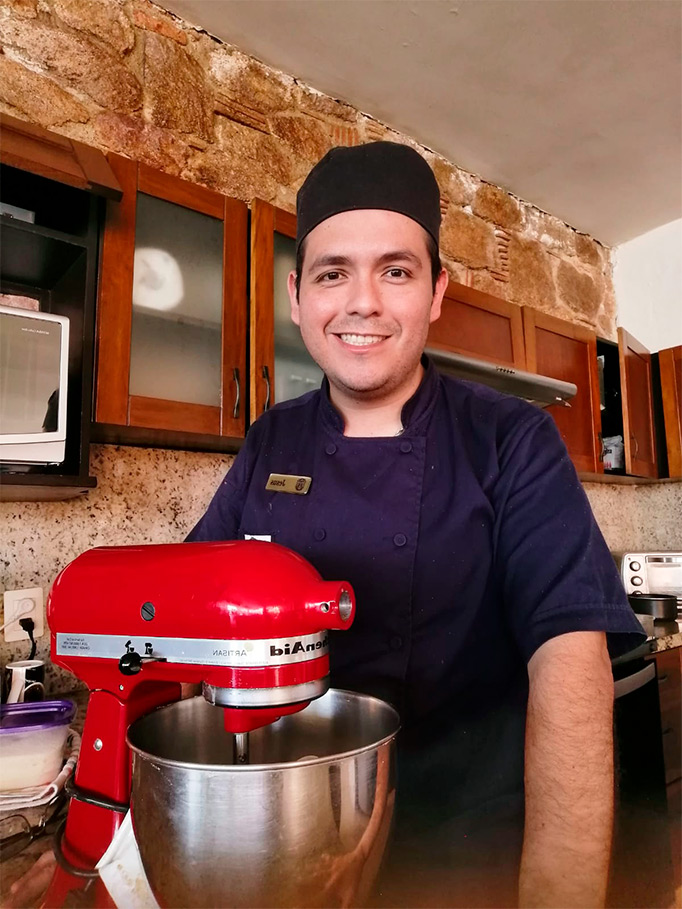 Chef Jesus
Jesús is a young chef who is very passionate about baking and has also a love for mixology. His gastronomic structure is very solid in Mexican, Italian and a taste of French cuisine. He can make some delicious homemade bread from scratch as well as the finest pastries and he's always committed and focused on perfecting each of his recipes and dishes.
Signature dishes:
Fish fillet with mango "chimichurri" sauce
Shrimp "Chile relleno" with roasted pepper sauce
Asparagus cream with goat cheese croutons
Reviews :
"I won't be able to stay in a regular hotel room again! Having Jesus as our chef was the highlight of our vacation. He made the whole trip a roaring success. We also loved having a pool in our room, especially because it was hot and humid"
"The icing on the cake was the food prepared by Chef Jesus, our suite's personal chef. Meal after meal wowed us. His culinary skills are to be celebrated. Never in my life have I eaten such deliciousness in a week's time. While his sea bass and paella were delicious, his rack of lamb with mole, chili rellenos and ceviche was unbelievable! I must also mention the huevos rancheros for breakfast"
"Jesus was the best part of our stay! He went above and beyond for us! His food was absolutely fabulous and he is such a kind and gentle person. The view is great!"
Chef Lulu
Chef Lulu was born in Tepic, Nayarit and obtained her chef degree at the Autonomous University of Guadalajara. Since then, she has worked in many places throughout Mexico: Playa del Carmen, Cancun, Nayarit and now in Puerto Vallarta. She offers vast experience to bring up to the table, her specialty being contemporary Mexican cuisine. So far Lulu has received nothing but great reviews from all her guests.
Signature Dishes:
Chicken Mole
Fish in Foil
Rack of Lamb
Reviews :
"Vallarta Shores was great, exactly what we needed. Lulu is an outstanding chef meeting every single need we had. We had an amazing time with delicious food. The location was great for all sorts of activities. The entire staff was helpful. Would definitely recommend and would stay again."
"Vallarta Shores is luxury. The vibe when getting off of the elevator and stepping into the penthouse is unforgettable. Lulu was awesome, I would def recommend this penthouse to any group of friends or family looking for an oasis. Waking up to the sound of the waves crashing was so soothing and can pretty much be hard from anywhere in the penthouse. Absolutely loved this place!"
"First time staying at the penthouse and it was amazing. Great chef, awesome view and a really nice place to stay when visiting PV."
"Loved Vallarta Shores, the view was amazing! I could have not asked for anything else. Pool was bigger than expected, chef Lulu was phenomenal, would definitely come back!"
Chef Roberto
Originally from Guadalajara, Robert developed an imminent passion for cooking in his early teen years. The concept of contemporary Mexican food showed him that he can take the flavors and ingredients that he grew up with and take them to another level. With 5 years of experience, what Robert enjoys the most about cooking is getting the family together at the table to share a good meal. He's always looking to be thoughtful, cheerful and committed to his guests. Robert sees himself first as a person then a chef, he firmly believes that the magic of what he does lies in love, empathy and a sincere smile.
Signature Dishes:
Lasagna with poblano pepper cream and duck breast
Rib Eye "carne en su jugo " stew with pieces of crispy pork belly
Reviews :
"Our stay was amazing specially thanks to our chef Robert. His food was amazing and he was very attentive to our needs. If you plan on staying here you should request him"
"Vallarta Shores is absolutely magnificent! The staff and specially Robert were very attentive!"
"Had a wonderful time at Vallarta Shores. Service was impeccable, our private chef Robert went above and beyond to make sure we were all taken care of and his food was AMAZING! "
REVIEWS
"Our stay at Vallarta Shores was amazing. Check in was easy, communication was great, our room was super clean. Our chef Robert was also awesome. Some of us weren not feeling great after returning from a day tour and he made us homemade chicken noodle soup— so kind and the soup was delicious. We thoroughly enjoyed our stay and hope to come back again!" – Kali Londa
Chef Rodrigo
Chef Rodrigo is a very attentive and professional chef, his number one priority is to please his guests and making sure they have the time of their lives. Because he was born and raised in Puerto Vallarta, he loves sharing his knowledge and specialties to his guests, most of which are based on local Mexican cuisine. If you are a seafood lover you will love having a personal chef like Rodrigo.
Signature Dishes:
Surf and Surf
Reviews :
"Rodrigo was great — he watched and played with our infant daughter during most of our meals, and made delicious fare throughout our stay in Sky suite A."
"There were 6 of us staying in Sky Suite A at Vallarta Shores.Rodrigo went above and beyond what would be in his job description of chef. I loved how he would take our grocery list the night before and when i woke, the fridge would be filled with everything we needed. Rodrigo was very flexible in his menus. I am missing his french toast. When myself and friend suffered from a tummy bug.Rodrigo went straight out to the pharmacy for medications. Rodrigo added the real, family oriented, friendship, authentic PV Mexican experience."
"Delightful time we had at Vallarta Shores. Rodrigo is a fabulous chef and he took such great care of us. Thank so much for the wonderful accommodations."